Creating the Best Online Customer Experience for Scheduling Test Drives Today
VIPdrv creates the best online customer experience for scheduling a test drive from your dealer website, leading to a fantastic dealership visit and great opportunity for car sale, higher gross profit and better CSI.
Want More Test Drive Appointments?
Add VIPdrv to your dealer website and set your dealership apart from competition by creating a great online customer experience and driving more test drive leads.
We provide you with a customized button/CTA to add to your VDPs (Vehicle Detail Pages) and SRPs (Search Result Pages). Once opened by car shopper, we present four steps to complete their test drive appointment, creating a great first impression and getting you closer to a car sale.
All dealer websites stop here. Watch how we take a boring lead form and create the best online experiences for scheduling test drives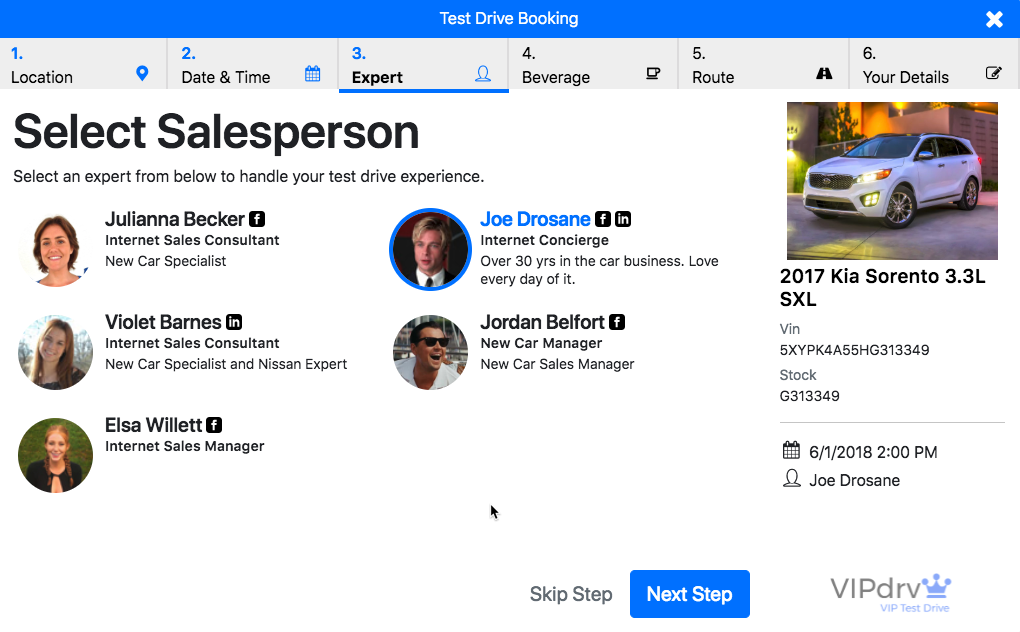 We give the customer the ability to select a salesperson for their test drive appointment. This puts a name/face up front and begins the personalization of the test drive.
Yes, that's right. What better way to establish a good connection with a potential customer, than to offer a beverage, waiting for them upon their arrival
What type of test drive do you want to take? Typical daily commute, hit the open road or quick drive by the house to park in the garage? We got you covered.
We offer our trademarked Lifestyle Routes or can customize the test drive routes to your requirements.
Our goal is to give your customers the best test drive experience to fit their lifestyle.
Interested in Learning More?